#BikePA6 · Resources for Cyclists
 The Ultimate Guide to Biking on PA Route 6
Whether you're looking for leisurely transportation through a charming community, an adventurous ride on a gravel loop trail, or the ultimate bicycle tour across Pennsylvania, PA Route 6 is your road!
In the cycling world, PA Route 6 can be referenced in two ways: as BicyclePA Route Y and as USBR 36 PA.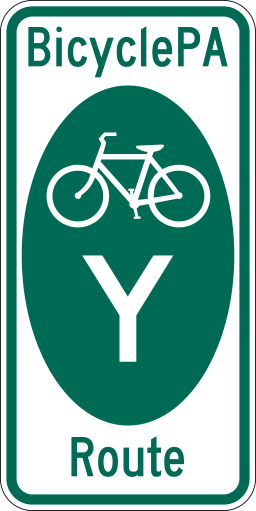 Route Y is the second longest BicyclePA route in PA, and it generally follows U.S. Route 6 through the deep forests of northern Pennsylvania. It offers access to Routes A and Z in the west and Route L in the east. It's often the choice for people cycling between Cleveland, Toledo, Detroit, or Chicago and the New York metropolitan area. 
BicyclePA routes were designed by experienced bicyclists to provide bicycling members of the traveling public who wish to traverse the state with a guide to some of the Commonwealth's highways and rail-trails. Few of these routes contain bike lanes or other facilities designed specifically for bicyclists traveling within the four corners of the Commonwealth. Every bicyclist is responsible for his or her personal safety and welfare and for remaining alert and mindful of conditions on the roads or trails. BicyclePA Route users are expected to be licensed drivers or persons at least sixteen years of age who have several years of road bicycling experience. 
Learn more about PA Bike Route Y through our partners:
PA DCNR · BicyclePA Route Y provides some background into the creation of BicyclePA Route Y as well as other Bicycle PA Routes across the Commonwealth.
In May 2018, USBR 36 in PA was named, connecting cyclists from Ohio to New York with PA Route 6.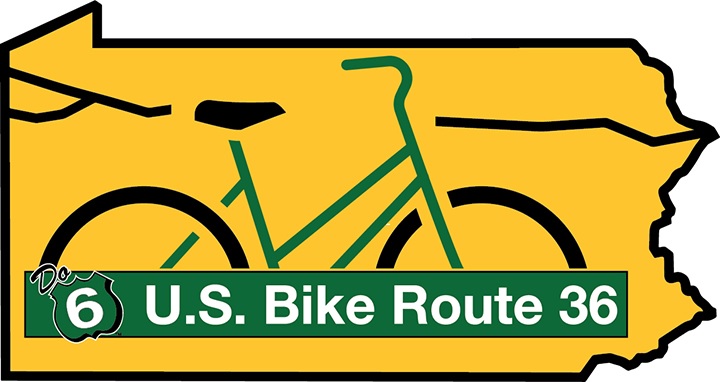 The United States Bicycle Route System (USBRS) is the national cycling route network of the United States. It consists of interstate long-distance cycling routes that utilize multiple types of bicycling infrastructure, including off-road paths, bicycle lanes, and low-traffic roads. As with the complementary United States Numbered Highways system for motorists, each USBR is maintained by state and local governments. The USBRS is intended to eventually traverse the entire country. The USBRS was established in 1978 by the American Association of State Highway and Transportation Officials (AASHTO), the same body that coordinates the numbering of Interstate highways and U.S. Routes.
This map shows the paths of BicyclePA Route Y and USBR 36 PA, both of which follow historic PA Route 6:
Plan Your Next Bicycle Trip on PA Route 6
Find PA Route 6 Loops on Ride With GPS
You ca
n bike PA Route 6 in a continuous, linear fashion from east to west (or vice versa), or you can experience one section at a time. You can even experience PA Route 6 via pre-existing loops on Ride With GPS. PA Route 6 currently offers a library of loops on Ride With GPS designed to help you plan your next trip. Find the best places to access and learn a little bit about the terrain before you go.
Ride With GPS is a website that allows you to create loops or ride loops that have already been created by experienced riders and cyclists. PA Route 6 Alliance is actively working with local cyclists, bicycle shops owners, bike clubs, and organizations across the region to identify the best bike loops, routes, and trails across the 11-county PA Route 6 Heritage Corridor.
Created with advanced riders in mind, loops range 40-95 miles with numerous elevation gains and traverse some of the corridor's most scenic riding through the Great Lakes Region, Allegheny National Forest, Dark Skies Region, PA Grand Canyon, Endless Mountains, and the Poconos.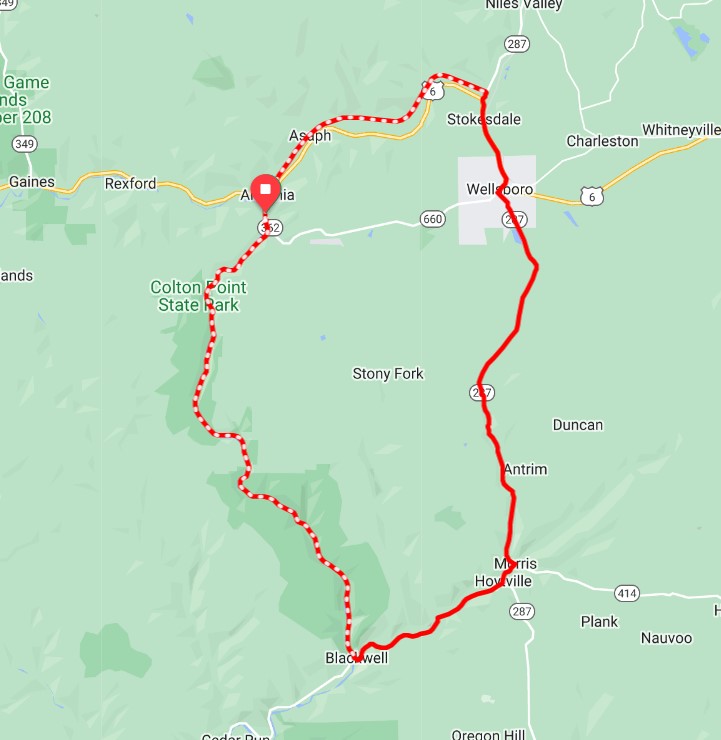 (Photo: Signature Loop 4, The Canyon Rambler, tours the Pennsylvania Grand Canyon and the scenic little town of Wellsboro.)
Explore PA Route 6 with 15-30-mile bicycle loops of varying skill level and mixed surface riding in each of our 20 Heritage Communities. Experience them individually or link them together to create the Trans Pennsylvania Cycle Tour across the entire 427 miles of PA Route 6, recognized as both a state and national bicycle touring route. These loops take riders off of Route 6 so that they can discover some of the best local riding in each community.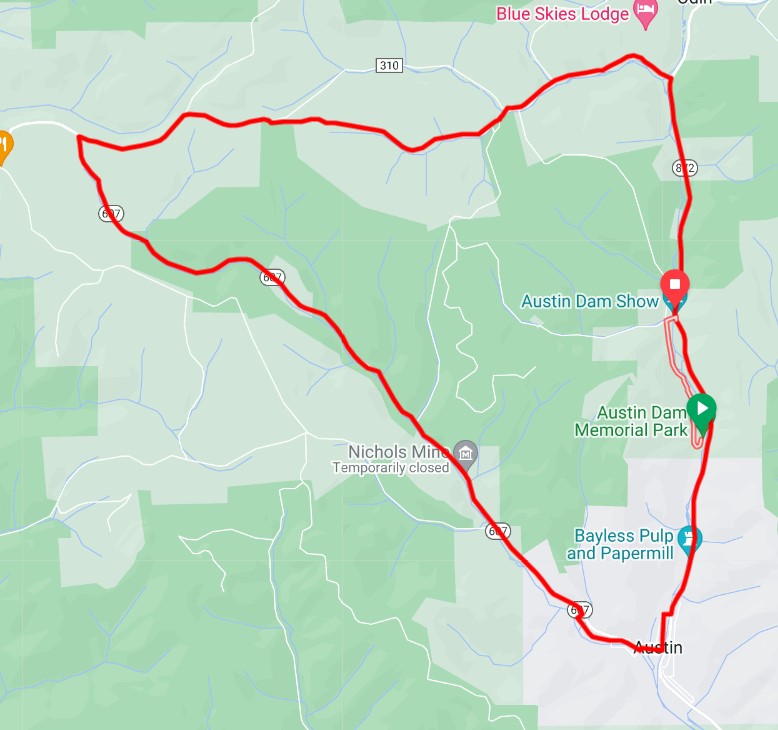 (Photo: The Austin Heritage Loop helps cyclists experience the best riding near the town of Austin, including the Austin Dam Memorial Park.)
Already cycled one of our Signature Loops or Heritage Community Loops? We want your feedback! Fill out a Bike Loop Assessment Form and let us know about your experience riding one of these loops.
Other Options
You can also search collections of loops that feature specific regions across the Route 6 Corridor:
We are always looking to develop more great loops along PA Route 6, too. Use our convenient #BikePA6 Submission Form to tell us about your favorites!
Also, we need cyclists to help us make PA Route 6 even more "bike-friendly". Sign up to be a #BikePA6 Insider, and we will send you email updates on #BikePA6 as well as information on how you can help us find and test bicycle loops!
(Disclaimer: The material and information contained on Ride with GPS is for general information purposes only. PA Route 6 Alliance will not be liable for any false, inaccurate, inappropriate or incomplete information on the Ride with GPS website. Although every effort is made to ensure this information is updated and accurate, due to the nature of the internet and technology involved, PA Route 6 Alliance takes no responsibility for and will not be liable for any personal injury or for any loss or damage suffered as a result of riding these loops. Ride at your own risk.)
Additional Resources
Regional & State Cycling Resources
Find more resources and recommendations for bicycle travel across the corridor and state through our many tourism partners, including our official PA Route 6 Tourism Partners — nine tourism promotion agencies and county visitors bureaus from across the 11-county PA Route 6 Heritage Corridor:
… our fellow PA Heritage Areas and other regional tourism organizations:
… and our other state tourism and funding partners:
PA Bicycle Laws and Bike Safety
The PA Route 6 Alliance and its partners continue to work closely with the Pennsylvania Department of Transportation (PennDOT) to improve the safety of pedestrians and bicyclists across the PA Route 6 Heritage Corridor under the guidance of PennDOT's 2019 Active Transportation Plan. Find more information and bicycle safety resources through the following links: 
Questions or Comments on Cycling PA Route 6?
We welcome feedback (especially from fellow bicycling enthusiasts and bicycle travelers). Submit your suggestions anytime at info@paroute6.com or call 814-435-7706.
PA Route 6 on Ride with GPS
Find Bike Shops & Resources on 6
Bike-Friendly Business Program
Sign Up to Be a #BikePA6 Insider or  Loop Tester
6 Signature Loops Across Route 6
Trans Pennsylvania Cycle Tour