Regions & Counties Across 6
Explore the Regions & Counties on PA Route 6
The PA Route 6 Heritage Corridor covers all of Northern Pennsylvania including 4 unique regions and 11 counties. Below, find each region listed with its counties (from EAST to WEST). Click on a county name to learn about that county and find 6 top attractions within the county for your next road trip across PA Route 6.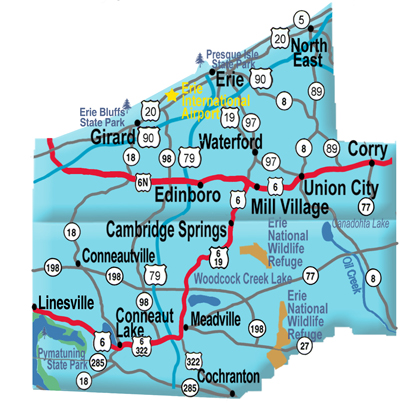 "Life is Great" as they say in the PA Great Lakes Region. From resorts to lakes, let Route 6 guide you to the good life with an abundance of relaxation and recreation through Erie and Crawford Counties. Experience small-town charm, resort communities built around Conneaut Lake, and the beaches of Pennsylvania's Great Lake – Lake Erie.
Erie County
Mile Markers: 00N–27N, 42–66
Crawford County
Mile Markers: 00–41

PENNSYLVANIA WILDS REGION

Warren, McKean, Potter, and Tioga Counties make up the northern part of the popular region known as the Pennsylvania Wilds, which also includes the Allegheny National Forest and the largest amount of state parks, state forest, and game lands in the state. Pursue your favorite outdoor recreation in one of the most pristine and untouched natural settings in the East — the PA Wilds!
Warren County
Mile Markers: 67-114
McKean County 
Mile Markers: 115 – 164
Potter County
Mile Markers: 165-200
Tioga County
Mile Markers: 201-244
UPSTATE PA & ENDLESS MOUNTAINS REGION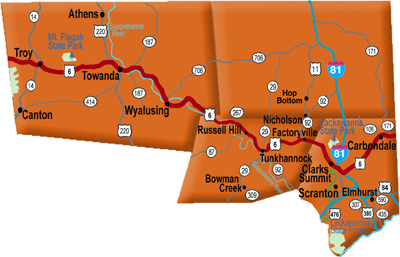 PA Route 6 also connects the northeastern counties of Bradford, Wyoming, and Lackawanna, a scenic region of Pennsylvania that has long been a vacation favorite for people escaping the stresses of major eastern cities. Explore the rich history and culture of small towns and cities in the Upstate & Endless Mountains region while relaxing in the fresh mountain air.
Bradford County
Mile Markers: 245-290
Wyoming County
Mile Markers: 291-321
Lackawanna County
Mile Markers: 322-367
POCONO MOUNTAINS REGION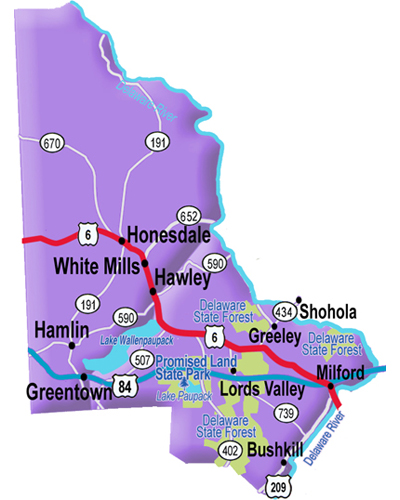 The eastern portion of PA Route 6, known as the Pocono Mountains, is a favorite vacation spot for many with its easy access from many major East Coast cities. Abundant outdoor recreation and charming small towns make this region of PA Route 6 truly adventurous n yet relaxing, too.
Wayne County
Mile Markers: 348-369
Pike County
Mile Markers: 370-400