"Do 6" in Conneaut Lake, PA
Welcome to Conneaut Lake, Pennsylvania!
The Pennsylvania Heritage Community of Conneaut Lake, set along scenic Route 6 between Pittsburgh and Erie and just minutes from Ohio, surrounds the beautiful Conneaut Lake, Pennsylvania's largest natural lake. Once a prime destination for hunters and fishermen, the community of Conneaut Lake developed a family-friendly resort atmosphere around the 1890s, which has been going strong ever since! Whether doing some shopping, fishing in the lake, or relaxing by the waterfront—you'll never get bored in Conneaut Lake, Pennsylvania!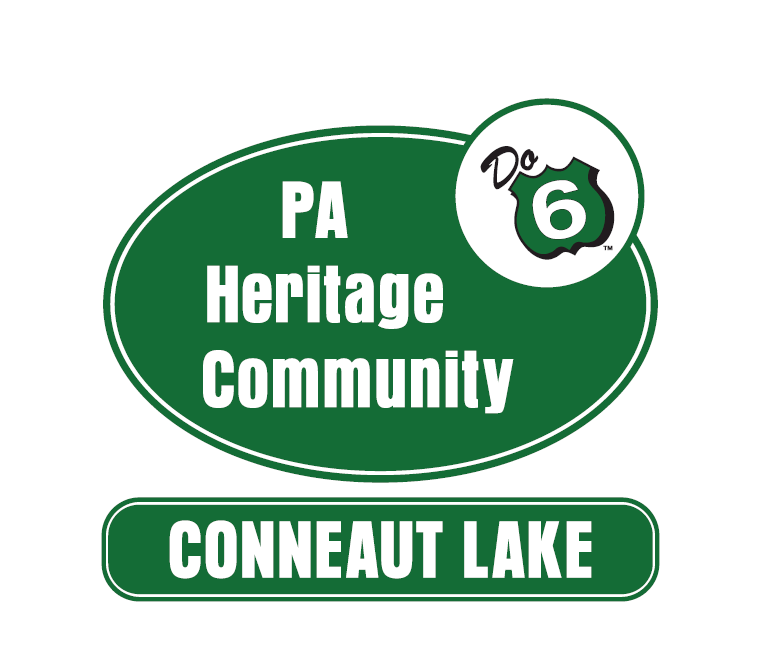 Top 6 Ways to "Do 6" in Conneaut Lake, PA: 
1. Learn the History of Conneaut from a Mural – Pictures speak louder than words, and the Conneaut Lake Historical Society Museum's eighty-by-thirty-six foot mural tells the entire history of the Conneaut Lake area!
2. Float Along the Lazy River at Splash City Water Park – With all-day wristbands costing only $10, you can afford to spend the entire day swimming, splashing, and floating with the kids at Splash City Water Park in Conneaut Lake Park.
3. Sample Some Spirits at Conneaut Cellars – Explore the craft of winemaking and spirits with a visit to Conneaut Cellars Winery & Distillery, a stop along the PA Route 6 Artisan Trail.
4. Ride the Historic "Blue Streak" Coaster – If you're a thrill-seeker, you'll love Conneaut Lake Park's very own classic wooden roller coaster, The Blue Streak. Built in 1937, the wooden coaster has been recognized for its historical significance through designation as a Roller Coaster Landmark by American Coaster Enthusiasts (ACE).
5. Have Some Freezing Fun at the Winter Ice House Festival – Don't let cold weather keep you from Conneaut Lake! Visit in February for the annual Winter Ice House Festival, complete with interactive ice sculptures, an ice trail, a delicious chili cook-off, and more.
6. People-Watch on the Boardwalk – Take a leisurely stroll along Conneaut Lake Park's historic boardwalk. There are always lots of friendly people to see and greet!
Conneaut Lake Contact Information:
Conneaut Lake Borough
395 High Street
Conneaut Lake, PA 16316
Phone: 814-382-7749
Hours: Monday through Friday: 9 a.m. to 2 p.m.
Conneaut Lake Bussiness Association
PO Box #646 
Conneaut Lake, PA 16316
Conneaut Lake Community Work Plan
Conneaut Lake Business Association
"Do 6" in Crawford County
More PA Heritage Communities: