Welcome to Corry, Pennsylvania!
Once a boom town due to the discovery of oil and expansion of the railroad, the Pennsylvania Heritage Community of Corry teems with energy and what locals call "big town living with a small-town feel." You'll find all you need in Corry —family-friendly parks, peaceful hiking trails, specialty gift shops, antique stores, inspiring art shops, delicious dining spots and great places to stay.
On April 4, 2022, Downtown Corry was added to the National Register of Historic Places. The historic district includes almost 83 acres and 272 buildings and properties.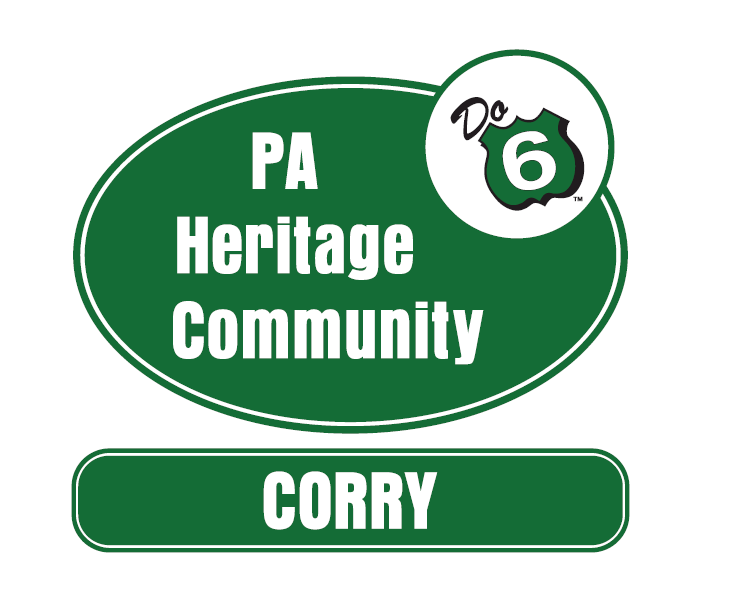 "Do 6" Mile Markers: 65-66
County: Erie County
Tourism Region: Great Lakes
Top 6 Ways to "Do 6" in Corry, PA:
1. Do Some Research at the Corry Area Historical Society & Museum – Pore over the Corry Area Historical Society and Museum's treasure trove of cataloged newspapers, photographs, documents, and artifacts to learn more about the history of Corry and maybe even some ancestors, too.

2. Picnic in Mead Park – Known as "the place to picnic since 1949," Mead Park provides 46 picturesque acres featuring convenient picnic facilities, fun playground equipment, a 15 Station Fitness Trail, tennis courts and basketball hoops, and even free fishing for kids under the age of 15.
3. Get Some Sunshine on the Corry Junction Greenway Trail – Hike, bike, run or stroll along the "Rails to Trails" Corry Junction Greenway Trail to retrace the path of Corry's historic railroad tracks—through the Brokenstraw Valley into New York state, along streams, by swamps, through woods, and amidst wildflowers. 
4. Take a Stroll Through Historic Downtown Corry – Visit Historic Downtown Corry to take in the beautiful architecture and do some shopping in the small-town shops. Make sure to stop by Epiphany's Emporium and Painted Finch Gallery, both stops along our PA Route 6 Artisan Trail.
5. Visit the Oldest Operational Fish Hatchery in the Country! – Opened in 1876, the Corry State Fish Hatchery boasts a 10-acre trout-rearing facility operated by the Pennsylvania Fish and Boat Commission. Take a tour to see the well-tuned operation that ensures a healthy trout population in regional waterways.
6. Get Your Golf On at One of Corry's Local Courses – If you're a golfer, take your pick between North Hills Municipal Golf Course, Carter Heights Golf Course, and Corry Country Club. Better yet, hit all three!
Corry Contact Information:
Corry Area Chamber of Commerce
221 N. Center Street
Corry, PA 16407
Phone: 814-665-9925
Email: cacc@velocity.net
Cory & Union City Community Work Plan
Corry Area Chamber of Commerce
Corry Area Historical Society & Museum
More PA Heritage Communities: