The Top Places to See & Things to Do on PA Rt. 6
Not sure what to definitely not miss while traveling along US Route 6 in Pennsylvania?
Below you will find a few suggestions based on your interests
Top 6 Parks & Sites of Military Significance on PA Rt. 6
Integral to America's early history, US Route 6 was designated as the Grand Army of the Republic Highway through all 14 states that it crosses. PA Route 6 Heritage Corridor towns have dedicated many memorable parks and historic sites in honor of those valiant efforts to ensure liberty and freedom in America and the greater world. As you travel across PA Route 6, spend some time in reflection at these significant sites, and send some thoughts of gratitude to those who put service before self.
1. The PA Heritage Community of Kane (MM 125) – General Kane, a Civil War General, had a significant impact on local and national history. Impressive monuments honoring historic military conflicts can be seen at Kane's Evergreen Park and Kane Memorial Chapel.
2. The Green in Wellsboro (MM 221) – Although best known for its charming statue of Winkin, Blynkin, and Nod, the Green in Wellsboro also features several meaningful war monuments. Take a stroll around this lovely park to appreciate them all.
3. Bradford County Veterans Park (MM 272) – Nestled along the beautiful Susquehanna River in Towanda, PA, this awe-inspiring park honors those loved ones lost in battles on-site throughout history.
4. Memorial Park in Carbondale (MM 344) – Across from City Hall, this beautiful square provides a sweet spot to reflect on the region's fallen heroes.
5. Milford War Memorial (MM 394) – Where else would you find an artful memorial than in this PA Heritage Community with such long-standing connections to the arts and culture? Find the Memorial at Broad Street, across from the Pike County Courthouse.
6. Veterans Memorial Park at Airport Park in Matamoras (MM 400) – This park within a park features various monuments — on for each major conflict our nation has endured and each as breathtaking and a piece of art.
---
Top 6 Historical and Heritage Sites on PA Rt. 6
(from west to east)
1. US Brig Niagara & Maritime Museum (near MM 1N) – Celebrating Oliver Hazard Perry's victory in the Battle of Lake Erie during the War of 1812.
2. Conneaut Lake Park (between MM 13 and 14) – One of the oldest amusement parks in America! Dare to ride the Blue Streak.
3. Zippo/Case Museum (north of MM 132 on Rt. 291) – Enjoy the storied history of Zippo lighters and Case knives, two products still proudly made in Bradford, PA, USA.

4. PA Lumber Museum (near MM 187) – A tribute to the lumberjacks and woodhicks who built this country. Explore a CC camp and logging village.
5. Steamtown National Historic Site (near MM 332) – Showcases the steam era of American Railroading with a working rail yard and roundhouse. Leave time to take rail excursions to nearby towns.
6. Grey Towers (near MM 394) – The ancestral home of the first chief of the US Forest Service, Gifford Pinchot. Be sure to sit at the water table.
---
Top 6 Scenic Vistas Along PA Rt. 6
(from west to east)
1. Rimrock Overlook (take Rt. 321N near MM 125) – Get a spectacular view from this favorite spot in the Allegheny National Forest. Just a short hike from the road.
2. Kinzua Bridge State Park (near MM 136) – Enjoy the view from the Kinzua Sky Walk, opening in 2011, which allows visitors to walk 560 feet and look through glass panels to see a 221-foot vertical drop into the Kinzua Gorge.
3. PA Grand Canyon (near MM 221 ) – Look down on Pine Creek and up at the eagle's nest. Make sure to visit both the Leonard Harrison State Park and Colton Point State Park to get two different views of the gorge.
4. The Windmills of Troy and Waymart (from MM 239 through 261 and at MM 348) – Marvel at the windmills rising above our mountains in these two towns. Wind energy is just another natural resource being harnessed along the Corridor.
5. Wyalusing Rocks (near MM 287) – Imagine yourself floating down the mighty Susquehanna River or working in the farm fields below as you stand on this overlook.
6. Tunkhannock Viaduct (near MM 320) – Gain a new appreciation for engineering feats as you gaze at the 12 majestic spans of this railroad bridge in the sky.
---
6 Outdoor Activities You'll Love Along PA Rte. 6
1. Hit the Trails! – Get some exercise by hiking or biking the trails in Presque Isle State Park (near MM 1N) or along the Pine Creek Rail Trail (near MM 211) (voted one of the top 10 places to take a bike tour in the world by USA Today).
2. Go Boating and Fishing – Enjoy a day on the water at the Allegheny Reservoir (take Rt. 321 near MM 125) or Lake Wallenpaupack (MM 368).
3. Spot Some Wildlife – Wildlife is in abundance across Route 6! Two animal must-sees are the "ducks that walk on the back of fish" at Pymatuning State Park (near MM 7) and the eagles nesting along the Upper Delaware River (near MM 400).
4. Do Some ATV or Snowmobile Riding – Ride across "The Loop" in the Allegheny National Forest (MM 86 – 136) or on the many crisp trails of the Susquehannock State Forest (MM 185).
5. Stroll through the Small Towns – Enjoy small-town America with a leisurely walking tour of Wyalusing (MM 287) or a stroll along the Artisan Trail in downtown Honesdale (MM 359 – 360).
6. Go Skiing – Glide down the snowy white slopes of Montage Mountain (near MM 332) or Elk Mountain (near MM 330) — or BOTH!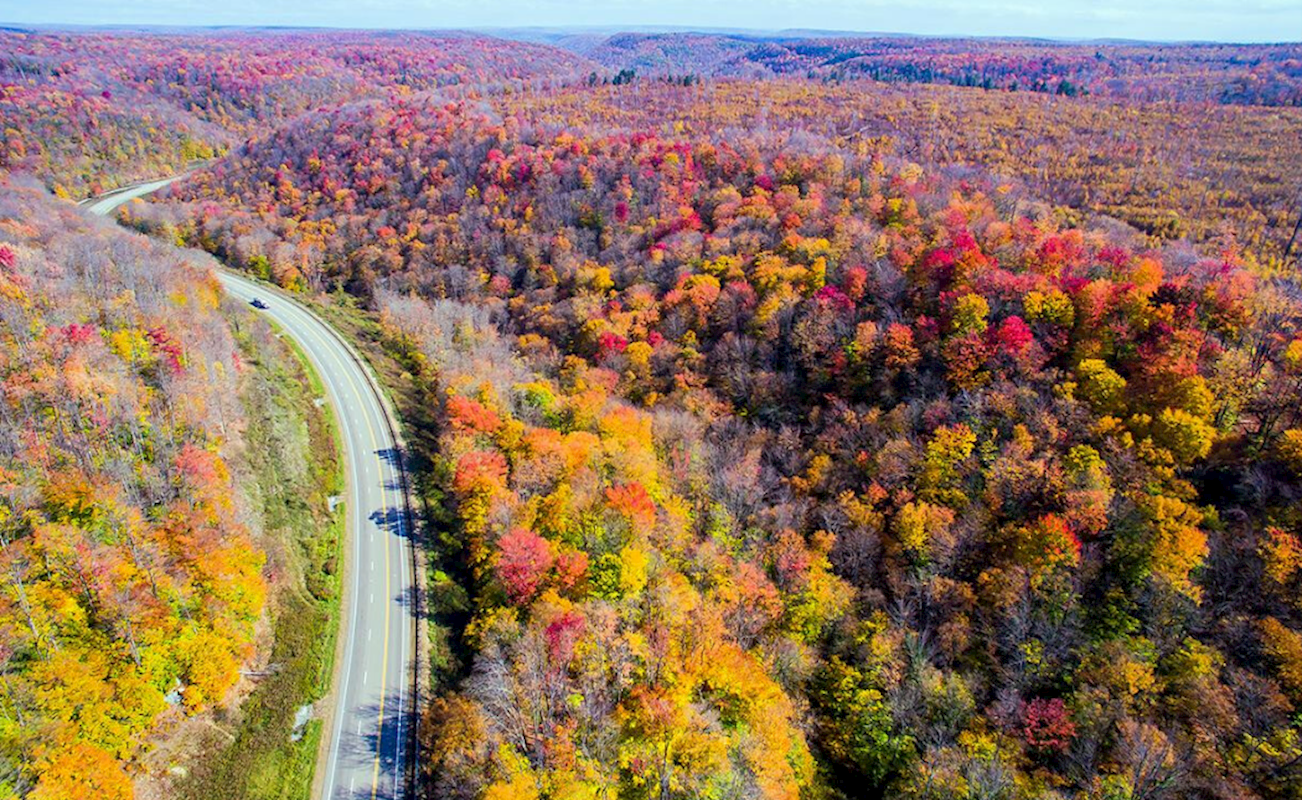 Regions & Counties on Rt. 6