Welcome to Hawley, Pennsylvania!
Nestled in the Pocono Mountains, the small Pennsylvania Heritage Community of Hawley bustles with activity, community culture, and historic charm. Offering the best of all worlds, a visit to Hawley may include rest and relaxation in an award-winning inn, exciting outdoor recreation on Lake Wallenpaupack, an intriguing exploration of the town's railroad- and industrial-roots, plus entertaining arts and cultural events in Hawley's happening downtown! While you're downtown, make sure to notice Hawley's historic architecture.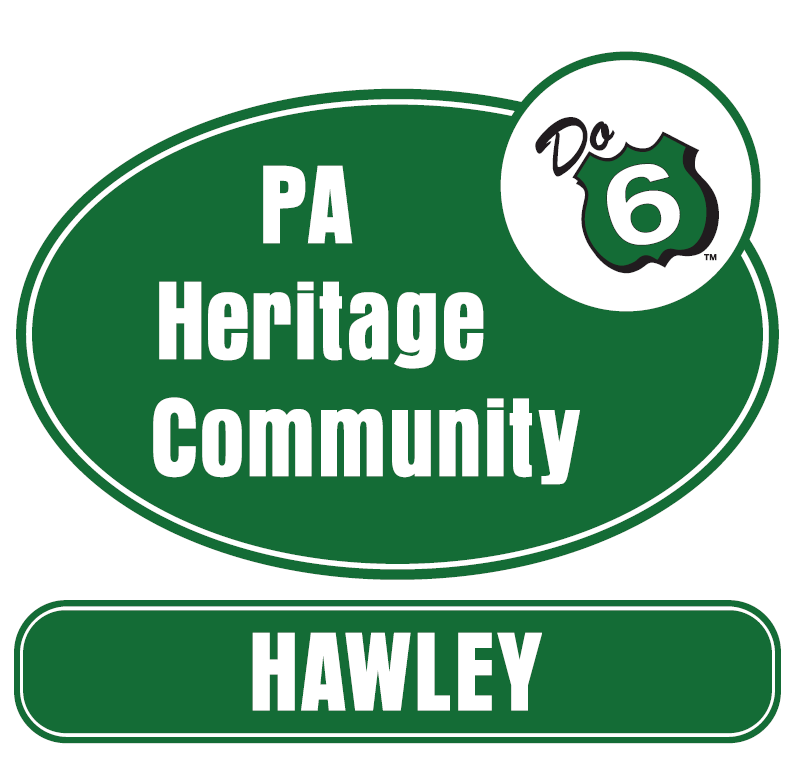 Rt. 6 Mile Markers: 368–369
County: Wayne
Tourism Region: Upstate PA & Pocono Mountains
Top 6 Ways to "Do 6" in Hawley, PA:
1. Explore the Region's Waterfalls – Set out for the Delaware Water Gap National Recreation Area to scout out the region's gorgeous cascades.
2. Borrow a Bike, FREE of Charge! – Borrow a bike from the Hawley BikeShare program to explore Hawley's quaint downtown. Each bike comes ready to go with helmet, bike lock, and removable basket for carrying all of those purchases from local shops.
3. Plan to Visit for One of Hawley's Exciting Community Events – Plan your visit strategically to experience one of Hawley's annual community events, such as Wally Lake Fest in August, Hawley's Harvest Hoedown in October, or Hawley's Winterfest in December.
4. Relax & replenish at The Settlers Inn – Plan a stop along our Route 6 Artisan Trail at The Settlers Inn, a meticulously restored 1920s Arts & Crafts Lodge with a full-service farm-to-table restaurant and tavern, too. You'll love their peaceful woodlands and artfully designed gardens along the Lackawaxen River, including a portion of the old Delaware & Hudson Canal.
5. Take the Stourbridge Line Along the Lackawaxen River – Board the restored vintage railcars of The Stourbridge Line for a fun excursion along the scenic Lackaqwaxen River!
6. Enjoy Some Shopping at a Historic Silk Mill – Visit the largest Bluestone building in the world, the nationally designated Hawley Silk Mill. This former factory-turned-lifestyle center includes unique shops, an art gallery, a fitness center, and offices.
Hawley Contact Information:
PO Box 584
Hawley, PA 18428
Phone: 570-226-4064
Honesdale, Hawley, & White Mills Work Plan
Downtown Hawley Partnership
Pocono Mountains Visitors Bureau
More PA Heritage Communities: