National Recreation Trail Adventures on PA Rt. 6
The "High-Caliber" Trails of PA Rt. 6
With 11 counties, 20 Heritage Communities, 19 state parks, 7 state forests, 1 national forest, 2 rivers, and seemingly endless creeks and streams, the PA Route 6 Heritage Corridor has all the recreational trails you'll need!
National Recreation Trail Adventures Along PA Route 6
Not only Pennsylvania's US Route 6 itself a National Recreation Trail (NRT)—a designation given by the National Parks Service to the "highest-caliber" land- and water-based trails in the nation—several trails along the corridor carry NRT designation, too. Use the this National Recreation Trails Database to search for National Recreation Trails by county, but don't rule out the non-NRT trails. Each county along the Pennsylvania Rt. 6 Heritage Corridor contributes a one-of-a-kind system of trails providing unique opportunities for outdoor recreation amidst that county's special historic sites, beautiful landscapes, and welcoming communities.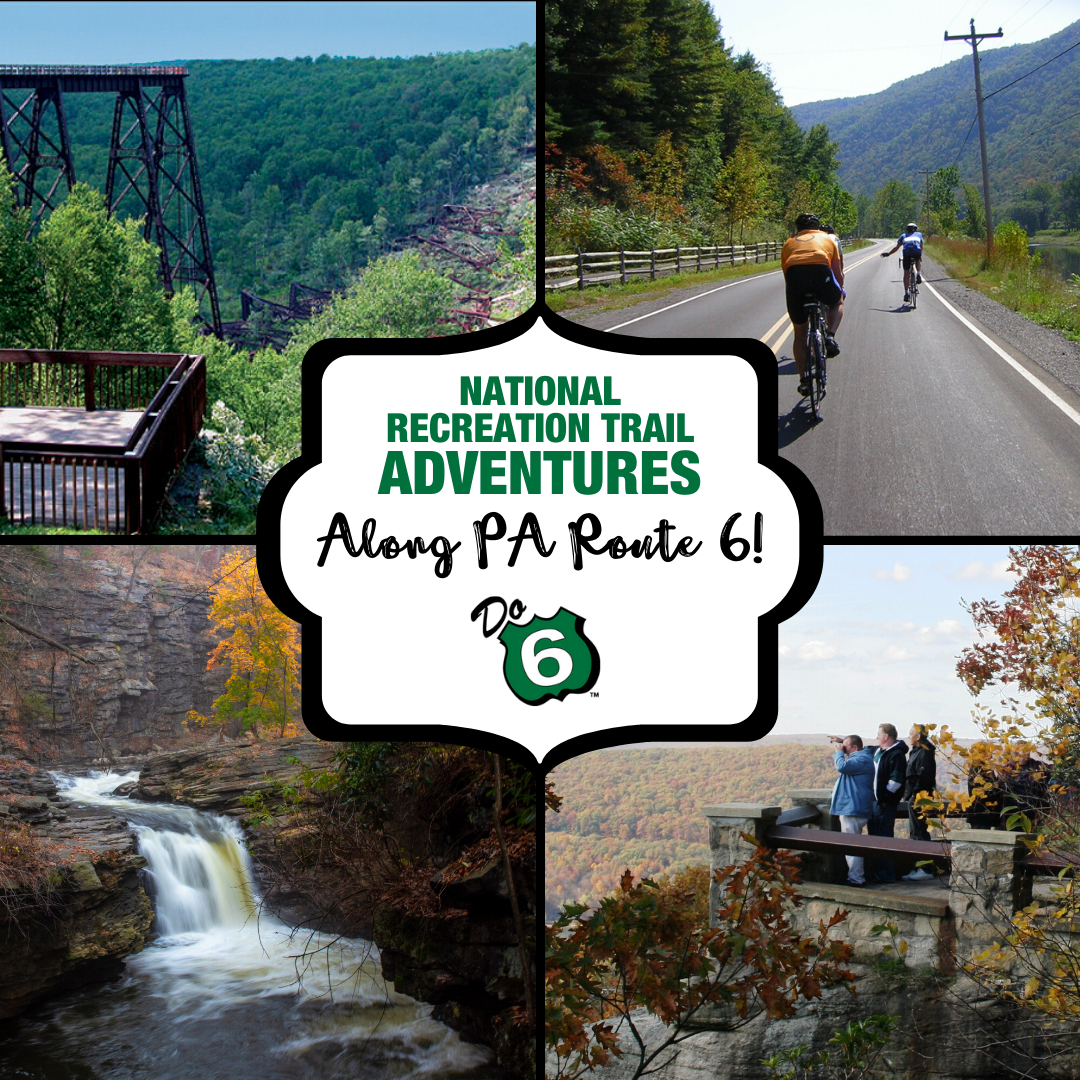 Whether cycling along the old railroad bed that is now the Pine Creek Rail-Trail, hiking alongside the Lackawanna River on the Lackawanna Heritage Trail, or floating down the Conewango Creek Water Trail, it doesn't get "higher-caliber" than the recreational trails along Pennsylvania's Route 6 Heritage Corridor!
Let's adventure along PA Route 6, from east to west, to see what makes its trail system so "high-caliber"… 
Pike County:
Wayne County:
Paupack High Falls at Ledge's Hotel
Potter County:
Susquehannock Trail System
Crawford County:
Erie National Wildlife Refuge