PA Route 6 Façade Program in the Great Lakes
PA Route 6 Facade Program in Lackawanna County
The PA Route 6 Alliance and partner Lackawanna Heritage Valley recently announced the award of $100,000 through the Pennsylvania Department of Community and Economic Development's (DCED) Keystone Communities Program. With additional support from the Department of Conservation and Natural Resources (DCNR), this grant will help facilitate the PA Route 6 Façade Program in Lackawanna County.
About
The program will distribute funds directly to Lackawanna County commercial property owners (or businesses/nonprofits with property owner approval) for the completion of improvements and upgrades to their commercial building façades. The program is expected to fund 20 to 30 building improvement projects throughout the county which will collectively enhance the attractiveness of the communities and aid in the Alliance's mission to foster economic development and cultural conservation across the 11-county PA Route 6 Heritage Corridor.
The public in-person meetings February 7-9 were a great success, as was the virtual meeting February 15th, with dozens of businesses attending to learn more about this program. We enjoyed meeting so many business owners and organizations in Lackawanna County and look forward to assisting you with your projects. Deadline to submit applications is April 21, 2023.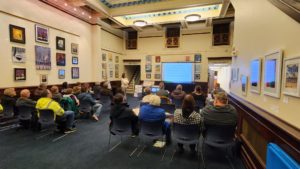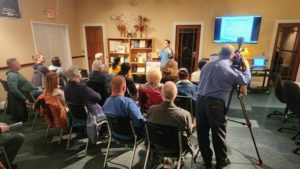 If you are interested in the PA Route 6 Facade Program in Lackawanna County but were unable to attend one of these meetings, please contact our Facade Program Coordinator Vanessa Billings-Seiler at (812) 774-7082 or email facade@paroute6.com. Please note: all applicants are required to discuss their potential projects with the program coordinator before applying.
Deadline to Submit the Application for the PA Route 6 Facade Program in Lackawanna County is APRIL 21st!!!
Here are Links to the Guidelines and Application
PA Route 6 Facade Program in Lackawanna County Guidelines
PA Route 6 Facade Program in Lackawanna County Application 
More About the Facade Program in Lackawanna County:
Commercial building owners (or businesses/nonprofits with property-owner approval) may apply
Maximum award of $5,000 per person
1:1 matching funds required from each recipient
Maximum total project cost of $10,000 each
Buildings may be located anywhere in Lackawanna County
Improvements must be to the building façade (front exterior that is visible from the road)
Examples of eligible projects: exterior paint, new signage, railings, and canvas awning replacement
Lackawanna County Department of Economic Development
More Opportunities for Facade Funding in Lackawanna County:
City of Scranton Facade Grant Program: Businesses located in eligible areas of the city may apply for a façade grant of up to $10,000 with a 25% match. If multiple eligible small businesses share the same façade, they can submit a joint application for upgrades of up to $20,000. Applications are accepted on a rolling basis. The application and map of eligible areas is available on NeighborWorks website:

 

https://www.nwnepa.org/programs/neighborhood-revitalization/city-of-scranton-facade-grant-program.html
"Best Side of West Side" Façade Grant Program:

 

NeighborWorks can provide façade grants of up to $5,000 with a 1:1 match to some business or property owners located on Main Avenue or Luzerne Street that do not qualify for the city's program. For more information, see the attached application or contact Miranda Pace at

 

mpace@nwnepa.org

 

or 570-558-2490 for details.
Pine Brook Façade Grant Program:

 

United Neighborhood Centers received a Keystone Communities façade grant for the Pine Brook section of Scranton. I'm not sure whether the program is up and running yet, but you can contact Chrissy Manuel at

 

cmanuel@uncnepa.org

 

for more information.
PA Route 6 Alliance Façade Program Contacts
Candace Hillyard, Executive Director: 814-435-7706 or candace@paroute6.com
Vanessa Billings-Seiler, Façade Program Coordinator: 812-774-7082 or facade@paroute6.com
Past Façade Improvement Programs: