Welcome to Waymart, Pennsylvania!
This tiny Pennsylvania Heritage Community in the Pocono Mountains boasts the last remaining Delaware and Hudson Gravity Railroad Depot, once a site where coal was stockpiled during winter months before being weighed and shipped on the canal in Honesdale in the spring. The community, then known as "weight-market," became Waymart. In addition to its rich railroading and Coal Country roots, Waymart proves a great jumping-off point for a multitude of outdoor recreational activities throughout the Pocono Mountains region.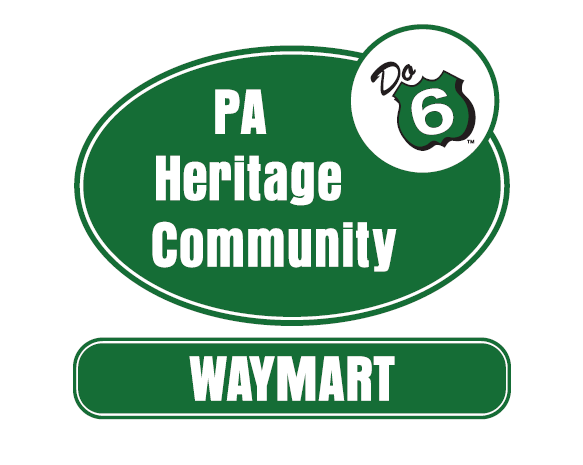 "Do 6" Mile Markers: 350-351
County: Wayne
Tourism Region: Upstate PA & Pocono Mountains
Top 6 Ways to "Do 6" in Waymart, PA:
1. Visit the D&H Gravity Railroad Depot Museum – Learn about the region's railroad roots at the D&H Gravity Railroad Depot Museum, the last depot existing from the Gravity Railroad of the pioneer D&H Canal Company, listed on the National Register of Historic Places.
2. Rest & Relax at Keen Lake Resort – Spend some time relaxing and communing with nature at Keen Lake Camping & Cottage Resort, home to a gorgeous 90-acre spring-fed mountain lake in the Poconos.
3. Play in the Snow! – Snowmobile over 200 miles of groomed trails throughout the Pocono Mountains, maintained by NEP Sno Trails.
4. Explore Orthodoxy in America – Take a tour of St. Tikhon's Monastery, considered "a hidden 'treasure of treasures' of Orthodoxy in America."
5. See How Maple Syrup & Sugar are Made – Visit Shemanski Maple Syrup Sugarhouse & Gift Shop to learn the process of maple syrup production—and get a sweet treat!
6. Enjoy the Poconos on Horseback – Visit Happy Trails Riding Stable to explore the Pocono Mountains by horseback!
Waymart Contact Information:
Waymart Borough
PO Box 28
South Street
Waymart, PA 18472
Phone: 570-488-5400 
Email: thewaymartborough@gmail.com
Waymart Community Work Plan
Pocono Mountain Visitors Bureau
More PA Heritage Communities: