Welcome to Wyalusing, Pennsylvania!
The Pennsylvania Heritage Community of Wyalusing—said to be a "special place of historic significance, natural beauty, and progressive thinking"—provides an array of beautiful scenery, historical attractions, and recreational opportunities for all. Look out over the Susquehanna River from "Prayer Rocks," sacred site to the former Native American population, follow country roads to colorful barn quilts throughout Bradford County farmlands, or take a kayak down the beautiful Susquehanna—you'll surely find Wyalusing a fun place to visit, play, and stay!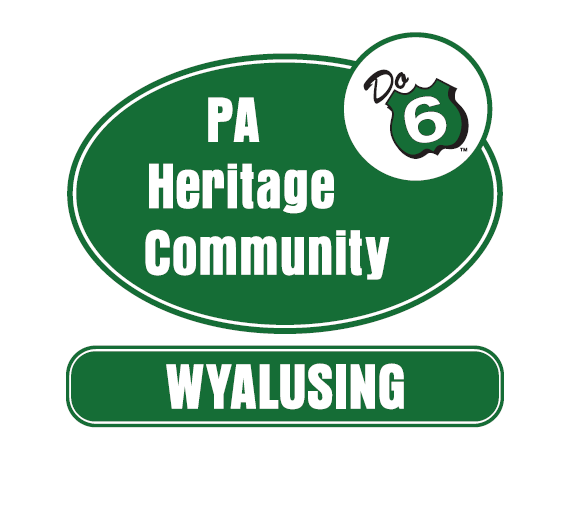 "Do 6" Mile Marker: 287
County: Bradford
Tourism Region: Upstate PA & Pocono Mountains
Top 6 Ways to "Do 6" in Wyalusing, PA:
1. Visit a Former Iriquois Sacred Site – Head just over a mile west on Route 6 to find Wyalusing Rocks, a former signaling point for Iriquois residents overlooking one of the region's most impressive vistas!
2. Go Boating on the Susquehanna – Grab a canoe or kayak and travel down the Susquehanna River North Branch Water Trail.
3. Learn About the Region at the Wyalusing Valley Museum – Explore the photos, artifacts, and exhibits at the Wyalusing Valley Museum to learn more about the region's heritage.
4. Follow the Barn Quilts Throughout the County – Enjoy the rural countryside and explore the "Quilted Corners of Wyalusing" while taking a self-guided barn quilt driving tour.
5. Visit an Asylum – Go back in history at the French Azilum Historic Site, where French colonists had hoped to house Marie Antoinette.
6. Relax by the Creek – Visit Wyalusing's Creekside Park. The 9-acre property was generously donated by The Hayseed Group. However, it took many generous donors to make The Creekside Park a reality. The Park will offer kayaks, canoes, and fishermen access to the Susquehanna River. Creekside Park also includes a ¼ mile walking trail, greenspace, picnic tables, and a nine-hole disc golf course for all to enjoy.
Wyalusing Contact Information:
Greater Wyalusing Chamber of Commerce
PO Box 55
Wyalusing, PA 18853
Phone:  570-746-4922 
Wyalusing Community Work Plan
Greater Wyalusing Chamber of Commerce
"Do 6" in Bradford County
More PA Heritage Communities: