"Do 6" in Youngsville, PA
Welcome to Youngsville, Pennsylvania!
The quaint Pennsylvania Heritage Community of Youngsville sits amidst Warren County's PA Wilds region, nestled in the Brokenstraw Valley, surrounded by the Allegheny Mountains and Allegheny National Forest. This location—along with peaceful parks and scenic trails—makes Youngsville a nature-lover's paradise! Plus, Youngsville's changing seasons each provide a uniquely stunning backdrop for all of your vacation adventures.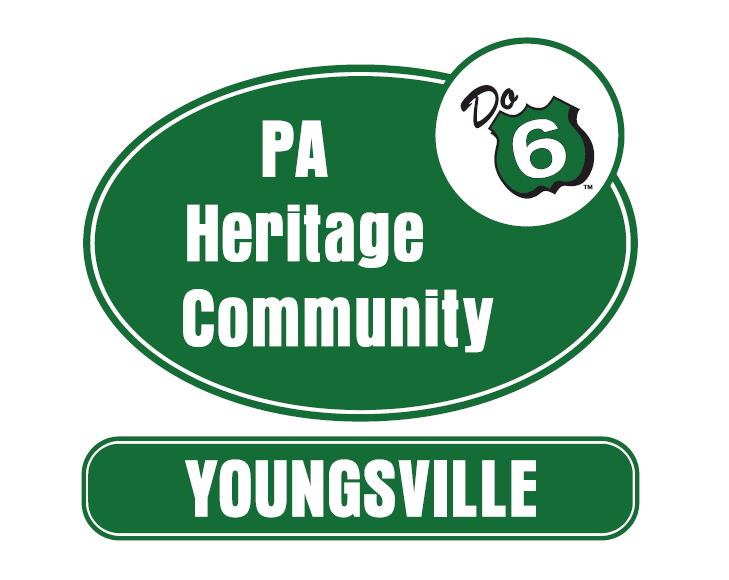 "Do 6" Mile Marker: 86
County: Warren
Tourism Region: PA Wilds
Top 6 Ways to "Do 6" in Youngsville, PA:
1. Go Fly Fishing on the Allegheny – Join Brian of Fin & Fly Adventures for some guided fly fishing fun on the beautiful Allegheny River!
2. Explore the Region's History at the Wilder Museum – Visit nearby Wilder Museum of Warren County History to learn about the history of Youngsville and its surrounding areas.
3. Kayak Down Brokenstraw Creek – Rent a kayak, then enjoy the sunshine and beautiful scenery while kayaking Brokenstraw Creek.
4. Explore the Allegheny National Forest – Hike, bike, ride ATVs, or snowmobile through the 555,000-acre Allegheny National Forest.
5. Discover Local Art at Allegheny Artistry – Peruse the art and crafts of the area's finest artists and craftsmen at Allegheny Artistry, the Local Artists' Co-Op on Main Street.
6. Enjoy the Outdoors at Buckaloons – Set up camp at Buckaloons Recreation Area, then explore the PA Wilds hiking the on-site Seneca Interpretive Trail, named for the Seneca Indian tribe that once lived there.
Youngsville Contact Information:
Youngsville Borough
40 Railroad Street
Youngsville, PA 16371
Phone: 814-563-4604
Email: lhagberg@youngsvilleboro.org
Youngsville Community Work Plan
Warren County Visitors Bureau
More PA Heritage Communities: