Welcome to Carbondale, Pennsylvania!
Nestled along Scenic Route 6 in northern Lackawanna County sits the Pennsylvania Heritage Community of Carbondale. Carbondale bears the nickname "The Pioneer City" due to its status as northeast PA's first city, as well as its elemental role in the American Industrial Revolution. Its rich heritage, vibrant culture, and friendly charm make Carbondale a visitor-friendly city you're sure to love!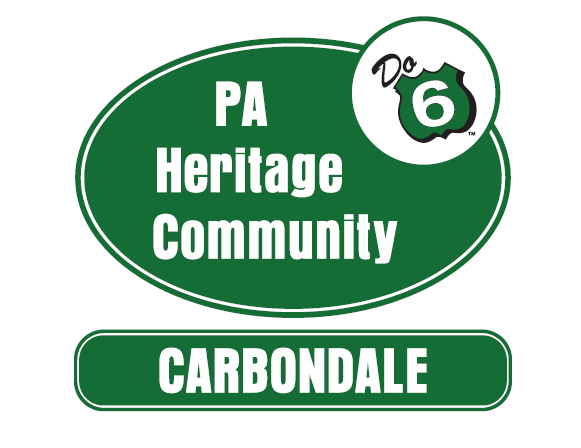 "Do 6" Mile Markers: 343-345
County: Lackawanna
Tourism Region: Upstate PA & Pocono Mountains
Top 6 Ways to "Do 6" in Carbondale, PA:
1. Visit Carbondale's Historic City Hall & Historical Society Museum – Explore the heritage of the region at Carbondale Historical Society and Museum, located on the third floor of Carbondale City Hall, a National Historic Register Building.
2. Mountain Bike through Merli-Sarnoski Park – Get some exercise while admiring the untouched natural beauty of Merli-Sarnoski Park, an 840-acre park featuring lake swimming, fishing, and sports facilities.
3. Admire Carbondale's Historic Architecture – Grab this ebook to take a self-guided walking tour of Carbondale's historic homes and landmarks.
4. See a 15,000-Year-Old Pothole – Spend some time outdoors at nearby Archbald Pothole State Park, the 150-acre northeastern PA park named for Archbald Pothole, a geologic feature that formed during the Wisconsin Glacial Period, approximately 15,000 years ago. Fun fact: It would take 35 fire truck tankers to fill it!
5. Visit in March for Carbondale's Annual Lighted St. Patrick's Day Parade – Plan your trip to Carbondale in March for the community's spectacular Lighted St. Patrick's Day Parade and Celebration!
6. Learn Some History at the Pennsylvania Anthracite Heritage Museum – Spend some time at the Pennsylvania Anthracite Heritage Museum to learn more about the hardworking immigrants who settled in Lackawanna County to build better lives and ended up helping to build a better nation.
Carbondale Contact Information:
Office of Community & Economic Development 
1 N. Main Street
Carbondale, PA 18407
Phone: 570-282-2882
Carbondale Community Work Plan
The Greater Carbondale Chamber of Commerce
Lackawanna Visitors Bureau
"Do 6" in Lackawanna County
More PA Heritage Communities: