"Do 6" in Erie County, Pennsylvania
Welcome to Erie County, PA!
The Indians, British, and French waged a bitter battle to control it. American patriots conquered it. A great melting pot of immigrants civilized it. Erie County, Pennsylvania, has been helping to shape the destiny of our nation since the early 18th century! Experience all of that history and more by visiting Erie County's Pre-Revolutionary forts, covered bridges, and charming villages.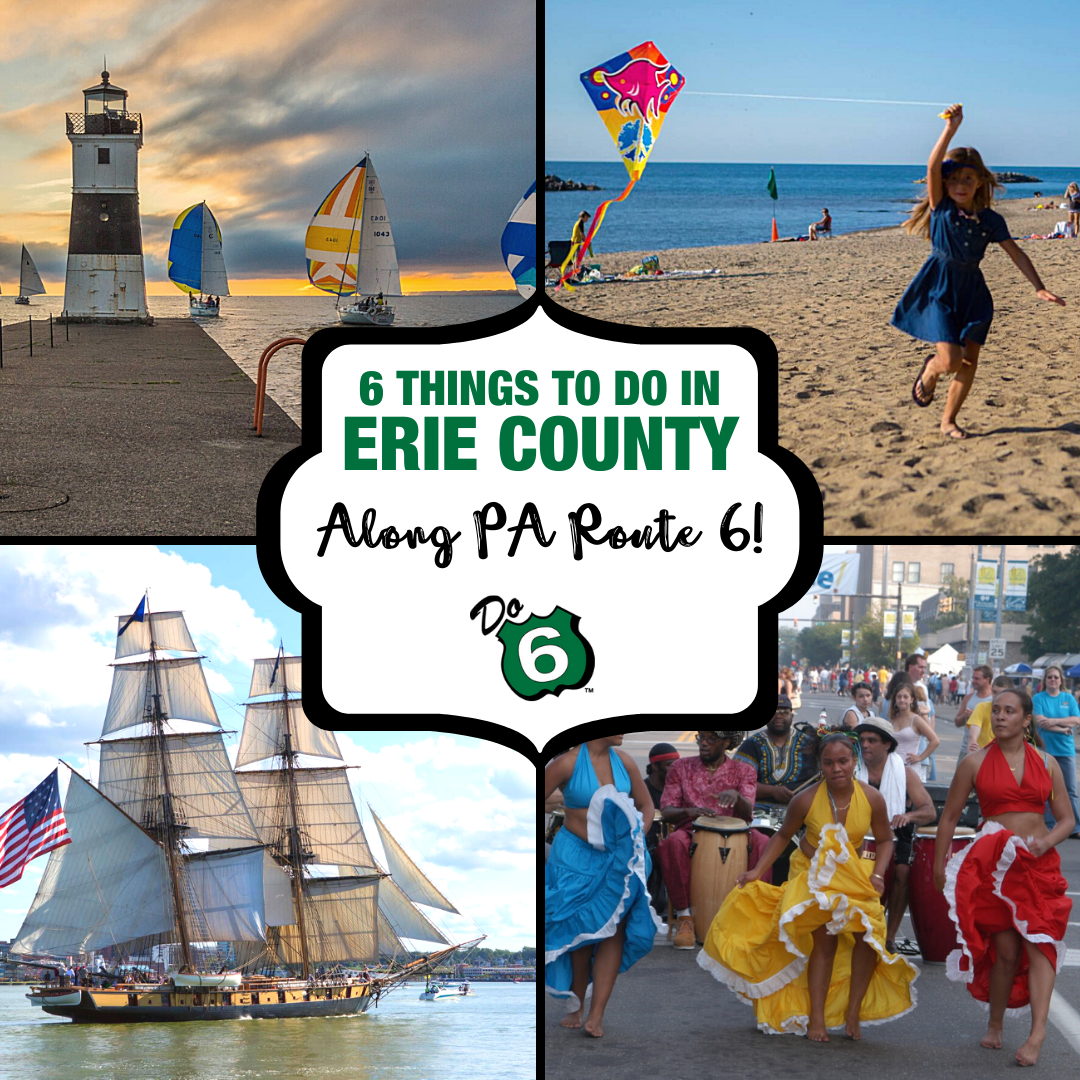 "Do 6" – Things to Do in Erie County:
1. Sunbathe on the Beach at Presque Isle State Park – Explore the seven-mile expanse of beaches in Presque Isle State Park by swimming, boating, hiking, biking, birdwatching, fishing, and more!
2. Go Winetasting in Lake Erie Wine Country – Take a tour along the Great Lakes Seaway Trail for some wine-tasting at the 24 wineries of Lake Erie Wine Country.
3. Learn About Erie's Nautical History – Explore Erie's nautical roots while visiting the Erie Maritime Museum, homeport of the U.S. Brig Niagara, a reconstructed battleship lauded for defeating the British in the War of 1812.
4. Take the Kids to Splash Lagoon – Enjoy summer fun all year round by taking the kids to Splash Lagoon Indoor Waterpark Resort.
5. Get Down with Nature at Goodell Gardens – Slow down and smell the roses at Goodell Gardens & Homestead, in Edinboro, one of many stops on the PA Route 6 Artisan Trail.
6. Go Wild at the Erie Zoo – Take a walk on the wild side with a visit to the Erie Zoo.
About Erie County's Amazing Prospects:
Each county along the Pennsylvania Heritage Corridor brings distinct "amazing prospects"— unique and alluring sites, landmarks, and attractions that tell tales of oil, coal, timber, and crops. Let's look at Erie County's…
National Recreation Trail Adventures in Erie County:
Each county along the Pennsylvania Heritage Corridor brings a unique system of top-notch trails and new opportunities for adventures amidst that county's natural beauty, rich heritage, and welcoming communities. Let's see what adventures we can find on the trails of Erie County, PA…
Major Cities of Erie County:
Erie
Heritage Communities in Erie County:
Rt. 6 Mile Markers: 00N-27N, 42-66
Tourism Region: Great Lakes
Erie County Contact Information:
VisitErie
208 East Bayfront Parkway, Suite 103
Erie PA 16501
800-524-ERIE
VisitErie.com