Welcome to Honesdale, Pennsylvania!
Honesdale's rich railroad history began in 1829 when the Stourbridge Lion was brought over from England as a result of the town's early-nineteenth-century involvement in the coal industry. It was the first steam locomotive to run on commercial tracks in the United States. A full-scale replica of the famous Stourbridge Lion—a must-see for the railroad buffs and children of all ages—sits in the Wayne County Historical Society's Museum and Research Center, located at 810 Main Street.
The greater Honesdale area is rich in architectural treasures, many dating back to the 1800s. It features many fine retail and gift shops; friendly, professional services; cozy restaurants and cafes; and architecturally resplendent homes. Honesdale's picturesque Central Park overlooks Wayne County's historic Court House, as well as several other prominent buildings, including the boyhood home of Dick Smith, composer of "Winter Wonderland", and the Old Stone Jail, which dates back to 1859. The park is also home to the annual Honesdale Roots & Rhythm Music & Arts Festival. Whether you're in the mood to shop, dine, enjoy nature, learn, or simply explore, the greater Honesdale area has something just for you. Come and enjoy this wonderful piece of Americana. We're waiting to meet you!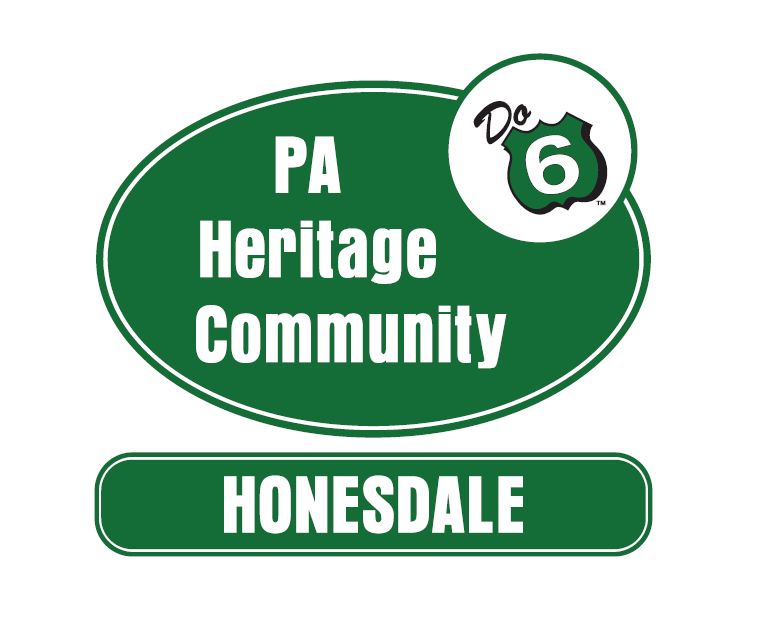 "Do 6" Mile Markers: 348-369
County: Wayne
Tourism Region: Upstate PA & Pocono Mountains
Top 6 Ways to "Do 6" in Honesdale, PA:
1. Take the Stourbridge Line Along the Lackawaxen River – The Stourbridge Line, operated by the Delaware Lackawaxen & Stourbridge Railroad Company (DL&S), offers a seasonal schedule of limited weekday and weekend service and community-related event excursions beginning on Presidents Day and continuing through the Fall Foliage Season. Enjoy 25 miles of historic railroad winding through Northeastern PA along the Lackawaxen River Valley. Experience the history and beauty during your ride on The Stourbridge Line. There are numerous themed rides for you to enjoy.
2. Enjoy the Sunset & Stunning Views from Irving Cliff – Visit Irving Cliff, named in honor of author Washington Irving, and the surrounding 50-acre public parkland for some outdoor recreation and the very best views of downtown Honesdale, its Residential Historic District, and the wind turbines on the Moosic Mountains.
3. Walk Historic Honesdale, the "Birthplace of the American Railroad" – Use this Historic Honesdale Walking Tour Guide to explore Honesdale's historic architecture and landmarks, including the Wayne County Court House, Old Stone Jail, and Library.
4. Experience Community on Second Weekend – Plan your visit for the second weekend of the month. Beginning on the "First Friday" of each month and continuing through Second Saturday and the weekend, the Wayne County Arts Alliance, a long-time member of the Route 6 Artisan Trail, collaborates with the community of Honesdale to celebrate the arts, culture, and community through art exhibits, musical performances, and special community events!
5. Explore the PA Route 6 Artisan Trail – Honesdale is a hot-spot on the PA Route 6 Artisan Trail, with local craft breweries for you to enjoy and fantastic shopping experiences in Maude Alley and on Main Street. Make sure to check out one local favorite, Mount Pleasant Herbary, where you can get artisan botanical products or a spot of herbal tea. If food is what you're about then you have too many choices here with Vietnamese, local farm-to-table eats, Native, Mexican, Chinese, Italian, pub-style options, and even fine dining at the Hotel Wayne. Don't stop there as you can stay in a Historic Hotel, and do it all again tomorrow!
6. Appreciate Honesdale's Artists – Visit The Great Wall of Honesdale, at the intersection of 4th and Main Streets, to see the impressive public art project featuring enlarged photographic reproductions of original art by local artists.
Honesdale's Annual Events:
Fireworks in the Park – July 2, 2022 (Rain Date: July 3)
Women's Club of Honesdale Art & Antique Show & Sale

 

– July 9-10, 2022
WCAA 202 Artists' Studio Tour – July 15-17, 2022
Sidewalk Sales – July 14-15, 2022
Central Park Summer Concerts – June-July, on Mondays and Thursdays
160th Wayne County Fair – August 5-13
Ghost Tours for 2022 – October 8, 9, 14, 15
Harvest & Heritage Days – October 8-9, 2020
Winter Wonderland – November 25-26, 2022
Honesdale, Hawley, & White Mills Work Plan
Greater Honesdale Partnership
Pocono Mountain Visitors Bureau
More PA Heritage Communities: