Welcome to Mansfield, Pennsylvania!
Centrally located in Tioga County and central to the county's activity, entertainment, and culture, the Pennsylvania Heritage Community of Mansfield lives up to its nickname of "Crossroads of the Northern Tier!" The Victorian architecture of Mansfield's Main Street houses jam-packed antique stores, small-town businesses, and delicious dining establishments. The University on the hill provides an eclectic array of arts and cultural events and a plethora of interesting visitors, too. All of this—nestled in the picturesque mountains of northern Pennsylvania—just a hop, skip, and jump from endless outdoor recreation opportunities at nearby Pennsylvania's Grand Canyon, Hills Creek State Park, and Cowanesque Lake.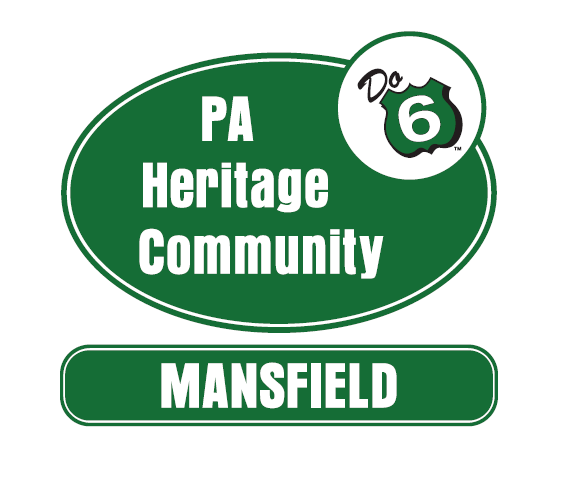 "Do 6" Mile Markers: 234
County: Tioga
Tourism Region: PA Wilds
Top 6 Ways to "Do 6" in Mansfield, PA:
1. Explore Mansfield's Landmarks & Architecture – Grab the Mansfield Walking Tour Brochure and head out for a stroll and some learning.
2. Have Some Family Fun at Bucktail – Spend a few days (or just a few hours) at Bucktail Family Fun Park & Camping Resort. The kids will love the carousel, miniature ride-on train, arcade game room, boat swings, zipline, and huge sand-filled playground!
3. Kayak in Mill Cove – Visit the Mill Cove Environmental Center for a kayaking adventure amidst the PA Wilds.
4. Bring Your Bicycle –Explore the Mansfield Heritage Loop, a 30-mile bicycle loop traversing the scenic areas surrounding Mansfield. This loop was submitted by Oswald Cycling and is a great way to experience Mansfield.
5. Enjoy the Outdoors at Hills Creek State Park – Spend some time in nature at 407-acre Hills Creek State Park. Choose from camping, swimming, picnicking, hiking, boating, fishing, and more – or do them all!
6. Explore the Past at The History Center on Main Street – Visit the History Center on Main Street, housed in one of the borough's oldest buildings and showcasing a plethora of artifacts, albums, photos, and other resources about the history of Mansfield and surrounding areas.
Mansfield Contact Information:
Mansfield Chamber of Commerce
54 South Main St.
Mansfield, PA 16933
Phone: 570-662-3442
Mansfield Community Work Plan
Mansfield Chamber of Commerce
More PA Heritage Communities: