PA Route 6 Celebrates $274k in Façade Improvements in Erie and Crawford Counties
June 7, 2023
Representatives from the PA Route 6 Alliance and its partners joined business owners and community leaders in both Erie and Crawford counties on Tuesday and Wednesday, May 30-31, to celebrate the successful culmination of the PA Route 6 Façade Program in the Great Lakes Region. The Alliance and its partners, which included VisitErie, Visit Crawford, Preservation Erie, Crawford County Planning, and the Oil Region Alliance, gathered to recognize the 26 businesses that received program funding that resulted in over $274,000 in façade improvements throughout the two-county region.
The PA Route 6 Façade Program in the Great Lakes Region was made possible by a $103,000 Keystone Communities Grant from the PA Department of Community and Economic Development (DCED) and support funding from the PA Department of Conservation and Natural Resources (DCNR) and is part of a larger Alliance initiative aimed at stimulating economic development by enhancing the attractiveness of the small towns across the 11-county PA Route 6 Heritage Corridor. Erie and Crawford county businesses and organizations were invited to submit applications for individual matching grant awards of up to $5,000 to fund physical improvements of building façades.
Representatives from PA Route 6 Alliance gathered with award recipients, tourism partners, county commissioners, and county planners at one participating business in each county, on May 30th at the Community Youth Center in Albion and on May 31st at Voodoo Brewery in Meadville. Businesses in Erie County received a total of $37,804.48 for façade improvements, while businesses in Crawford County received a total of $65,176.43 for facade improvements. This funding, combined with matching funds provided by grant recipients, has resulted in an overall economic impact of over $274,000 in the region.
"The Shapiro Administration believes that main streets matter, and the Governor's budget proposal calls for a significant increase in the Keystone Communities Program to support main streets likes the ones in the PA Route 6 Alliance," said Mandy Book, Acting Deputy Secretary of Business Finance & Workforce Development, DCED. "We're delighted that DCED and the KCP could help fund this PA Route 6 Façade Program. These improvements stimulate economic development and create pride in local communities. We hope to see more of these improvements all across the Commonwealth."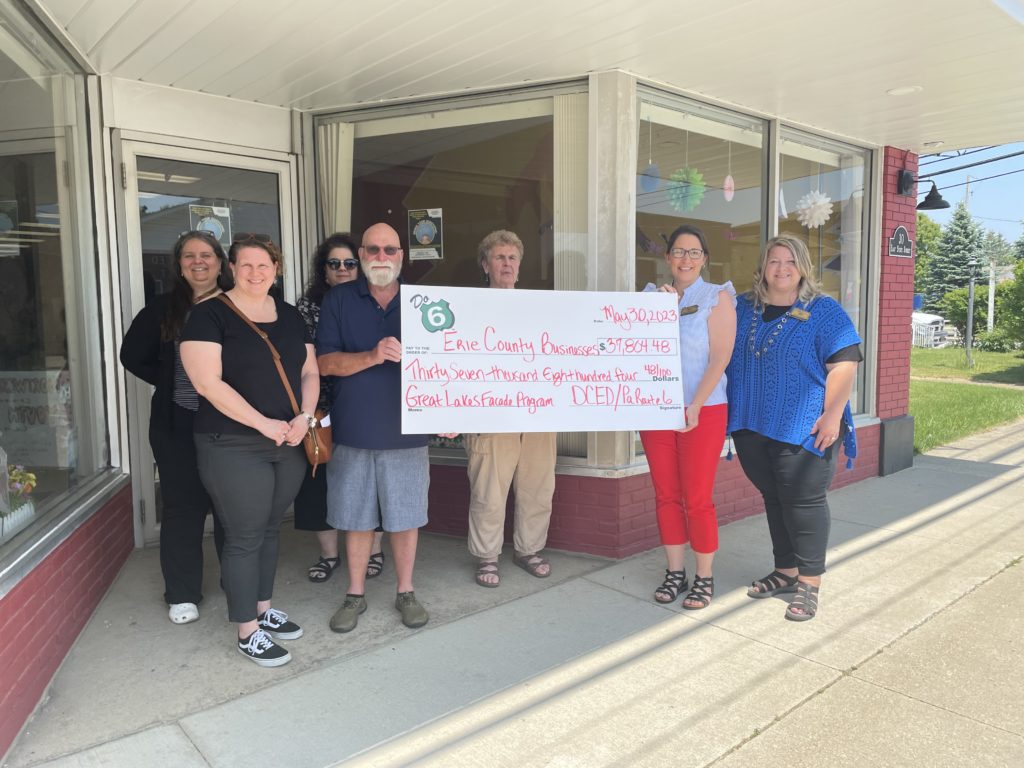 "It is amazing to see the improvements unfold in these communities," said Candace Hillyard, Executive Director of PA Route 6 Alliance. "While each grant award may seem small, each improvement project often inspires additional improvements throughout the community outside of the program."
Also, projects selected by the Alliance's review committee typically utilize local contractors, suppliers, and resources to complete these improvements. The result is an even greater economic benefit to the community that far outweighs each individual grant award.
"This program gives businesses the ability to help themselves and their communities," said Vanessa Billings-Seiler, PA Route 6 Façade Program Coordinator. "The program's review committee worked hard on the selection process. It was truly a community-based program that touched a lot of people now and will in the future."
This is the third year the Alliance has conducted the façade program within the PA Route 6 corridor. Previous programs have been held in the PA Wilds and Endless Mountains and were also funded by grants from the DCED's Keystone Communities Program and DCNR. In 2023, the Alliance brought the PA Route 6 Façade Program to Lackawanna County. Those projects are currently in the selection process and businesses will soon be awarded grants to begin façade improvements in Lackawanna County this summer.
For more information about the PA Route 6 Façade Program or to see the complete list of award winners, visit www.paroute6.com/pa-route-6-facade-program or contact the Alliance at info@paroute6.com or call 814-435-7706.
The PA Route 6 Alliance, a 501(c3) corporation, was established in 2003 to manage the PA Route 6 Heritage Corridor and to implement branding and marketing plans, community development programs and other planning efforts along the corridor.  The Alliance includes representatives from all 11 counties, 9 convention and visitor bureaus, 4 heritage areas, local development districts, local business owners, Chambers of Commerce, and other interested parties along the corridor.
The PA Route 6 Heritage Communities program is a program of PA Route 6 Alliance and PA Route 6 Heritage Corridor funded by the PA Heritage Area Program under the Pennsylvania Department of Conservation and Natural Resources.
–End—