6 Ways Veterans are Remembered Along the PA Rte. 6 Heritage Corridor
As Veteran's Day approaches, the PA Route 6 Alliance would like to acknowledge the work of our communities across the highway to honor those who have served in our military.
The Pennsylvania Route 6 Heritage Corridor, sometimes referred to as "Warrior's Road," has long been associated with military history and heroic military leaders. Reminders of this heritage, our veterans, and their service can be found throughout the local communities dotting Route 6. 
1. Grand Army of the Republic Highway (GAR): The other well-know name for US Route 6 was a title bestowed on the cross country highway by the US Congress at the request of the Sons of the Union Veterans of the Civil Wars. In all 14 states, travelers will see signs commemorating that designation. In Pennsylvania, the Galeton Rotary Club decided to restore a large GAR sign and install it close to the half-way mark across the state.
2. Hometown Heroes Banners: Many of the small towns across PA Route 6 have embarked on a program to line their street with banners honoring local war and service veterans. From Carbondale to Youngsville, the communities' pride in their residents shines for all driving down the highway to see.
3. Veterans Memorial Parks: Organizations across the northern tier have pulled their resources to create compelling and reflective spaces honoring the soldiers and sailors from all branches of armed forces and all conflicts. Two outstanding parks to visit are the Veterans Memorial Park, part of the Airport Park in Matamoras, and the Bradford County Veterans Memorial Park in Towanda.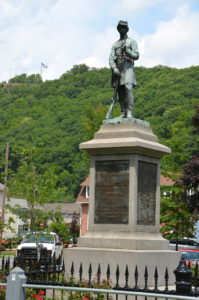 4.Veterans Statues: In towns like Warren, Honesdale (as seen above), and Tunkhannock across PA Route 6, travelers will find an array of impressive statues paying tribute to veterans and the conflicts they endured.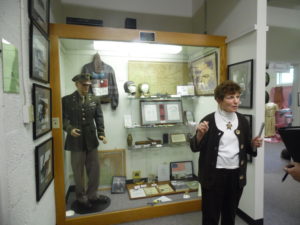 5. Historical Societies Displays:  The organizers of most of the county and town historical societies across the Heritage Corridor have gathered artifacts and created special exhibitions honoring those who chose to defend our country. Wayne County Historical Society in Honesdale features a display of WWI uniforms and military items. Also on display are representative items from the Revolutionary War through the Vietnam War. The Wilder Museum of Warren County in Youngsville (as seen above) has a Military Suite with a Civil War Room, a WWII room, and a large room divided into Revolution, Spanish American, WW1, Korea, Vietnam, and Desert Storm. The National Forge Room displays some of the guns, bunker buster, and other items that were used for the War effort from WWI through the present.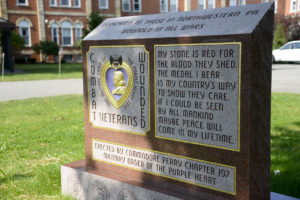 6. Pennsylvania Soldiers and Sailors Home in Erie, PA: This special place for living veterans is situated on 26 pastoral acres overlooking Lake Erie and is steeped in history. The home provides state-of-the-art care and treatment in a homelike atmosphere.
Photos: "War memorial" by afagen is licensed under CC BY-NC-SA 2.0 / "Soldiers' & Sailors' Home" by padmva is licensed under CC BY-NC-ND 2.0