Alliance Partners with PHC, Erie Arts & Culture to Bring Community Development Grant Opportunity to 14 Counties
The PA Route 6 Alliance, in partnership with the Pennsylvania Humanities Council (PHC) and Erie Arts & Culture, invites you to a free virtual workshop to learn about Community Heart & Soul™ and how your community can become a Heart & Soul Community. 
Participants will also learn about a special grant opportunity, available to select counties, offered by PHC and statewide funding partners to become the next Heart & Soul community.
What is Community Heart & Soul™?
Community Heart & Soul™, originally developed by the Orton Family Foundation, is an innovative program that helps a community use humanities-based tools, such as stories and shared values, to cultivate a sense of belonging among residents and engage them in community planning – with the ultimate goal of strengthening the community's social, cultural and economic vibrancy.
Key to the process is learning what matters most to the community by gathering stories, hopes, and ideas from residents of all generations, backgrounds, and sectors. This becomes the basis for building a community's shared values, which informs the community's unique action plan and makes the community more connected, resourceful, and resilient.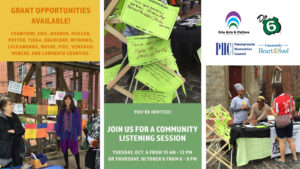 During this webinar, participants will:
Who Should Attend:
The workshops and grant opportunity are open to organizations, municipalities, civic and economic development groups, downtown revitalization and preservation groups — or any resident or organization that wants to increase community engagement and cultivate a more robust community — within the following counties: Crawford, Erie, Warren, McKean, Potter, Tioga, Bradford, Wyoming, Lackawanna, Wayne, Pike, Venango, Mercer, and Lawrence.
How To Participate:
Registration is required. There are two convenient virtual opportunities to learn about Community Heart & Soul™ and PHC's special grant opportunity. Click the link below or copy and paste it into your browser to sign up for the webinar that best fits your schedule.
Tuesday, October 6 from 10:00 – 12:00 p.m.
Register here: https://pahumanities.zoom.us/webinar/register/WN_EgNuenUvSOKDY7HYzc5aAw
Thursday, October 8 from 6:00 – 8:00 p.m.
Register here: https://pahumanities.zoom.us/webinar/register/WN_aiFXVrzJTxO6uy6xuQYRGQ
Questions? Contact Jen Danifo at jdanifo@pahumanities.org or visit www.pahumanities.org for more information.
Since 2015, PHC has been the only statewide organization partnering with the Orton Family Foundation to bring Community Heart & Soul™ to towns across Pennsylvania. To learn more about their work and the communities they have supported visit their website.
Support for these webinars is provided by the Pennsylvania Humanities Council, the Federal-State Partner of the National Endowment for the Humanities under a grant from the Pennsylvania Council of the Arts, a state agency funded by the Commonwealth of Pennsylvania and the National Endowment for the Arts. Additional support provided by the Pennsylvania Department of Conservation and Natural Resources.