PA Route 6 Artisan Trail Member Directory
Meet the Members of the PA Route 6 Artisan Trail!
From the Great Lakes communities of western Route 6, through the wonderfully wild middle, over the Endless Mountains, and amid the historic towns of the east, creativity abounds across northern Pennsylvania!
Among the PA Rt. 6 Artisan Trail Members (listed below) you will find artists' studios, art galleries, fine jewelers, museum gift shops, artisan eateries, community theaters, craft breweries and MORE!
Meet the 2023 PA Route 6 Artisan Trail Members:
(from WEST to EAST along PA Route 6)
  Great Lakes Region Artisan Trail Members:
Blossoms and Blooms Boutique, Linesville
Conneaut Cellars Winery & Distillery, Conneaut Lake
Voodoo Brewing Company, Meadville
Nancy's Under the Steps, Meadville

Meadville Market House

, 

Meadville

Davenport Fruit Farm Cidery & Winery, Meadville
Riverside Brewing Co. + Howles Maple Farm, Cambridge Springs
Earth, Wind and Wire Studio and Rock Shop, Cambridge Springs
Edinboro Chocolaterie, Edinboro
Goodell Gardens & Homestead

,

 Edinboro
Visit Erie, Erie
Erie Arts & Culture

, Erie

Brew Ha Ha at the Colony, Erie
Romolo Chocolates, Erie
Moosehead Pottery, Erie
Glass Growers Gallery. Erie
Painted Finch Gallery, Corry
Epiphany's Emporium, Corry
M & M Pottery Supply, Corry

3 Broke Girls Gallery

, 

Corry

Before the Barrel Distillery, Corry
Dahlia Home Decor, Corry
 PA Wilds Region Artisan Trail Members:
Wild Wind Folk Art & Crafts Festival September 9-10, 2023, Pittsfield
Crary Art Gallery, Warren
Warren Antiques & Giftware, Warren
Warren County Visitors Bureau, Warren
Moments in Time Studio, Warren
Ekey Marketplace, Warren
Olmsted Manor, Ludlow
Johnny Appleseed Festival, Oct 13-15 2023, Sheffield
CJ Spirits, Kane
Logyard Brewing, Kane
Flickerwood Wine Cellars, Kane
Art in the Wilds, June 25-26 2022, Kane
Twisted Vine Winery, Kane
Little Mountain Winery, Duke Center
Town Square Concerts, Port Allegany
Austin Dam Memorial Association, Austin
Potter County Artisan Cooperative, Coudersport
Olga Gallery, Café & Bistro, Coudersport
Cream 'n Sugar, Coudersport
Pennsylvania Lumber Museum, Ulysses
A Stroll Down Memory Lane, Galeton
Lydia's Country Store, Galeton
Patterson Farms, Westfield
Aunt Lulu's Embroidery, Middlebury Center

Visit Potter-Tioga, & Gift Shop

, Wellsboro
Cottage Glassworks, Wellsboro
Mack's Chainsaw Art, Wellsboro
Edge of the Woods Photography, Wellsboro
Pop's Culture Shoppe, Wellsboro
Stained Glass Reflections, Wellsboro
Linda Stager, PA Suncatcher, Wellsboro
Highland Chocolates, Wellsboro
Emerge Healing Arts,Spa & Salt Cave, Wellsboro
Gmeiner Art & Cultural Center, Wellsboro
A Just Cause, September 9-10 2023, Blossburg
Blossburg Company Store, Blossburg
Upstate / Endless Mountains Region Artisan Trail Members:
Settlement House, Sylvania
PA Heritage Festival,, Troy
Troy Sale Barn, Troy

Staggering Unicorn Winery

, Athens 
Bradford County Regional Arts Center + 3 Historic Theatres, Canton, Sayre, & Towanda
Grovedale Winery & Vineyard, Wyalusing
Blue Heron Artisan Shop, Wyalusing
Deep Roots Hard Cider, Sugar Run
Creek Road Pottery, Laceyville 
Framesmith Art and Framing, Tunkhannock
Endless Mountains Visitors Bureau, Tunkhannock
The Gathering Place for Community, Clarks Summit
Designs by Olivia Grey,

 

Clarks Summit
Lackawanna County Visitors Bureau, Scranton
Pocono Mountains Region Artisan Trail Members:
The Art Factory of White Mills, White Mills
The Settlers Inn, Hawley
Lina's Alchemical Shoppe, Hawley
B Madigan Jewelry & Gifts, Hawley
Miss Elly's Antiques & Such, Hawley
The Artisan Exchange, Milford
Schrader Creations, Milford
The Great Wall of Honesdale, Honesdale
Pocono Arts Council + ARTSPACE Gallery, Stroudsburg
Pocono Mountains Visitors Bureau, Lake Wallenpaupack
Featured PA Route 6 Artisans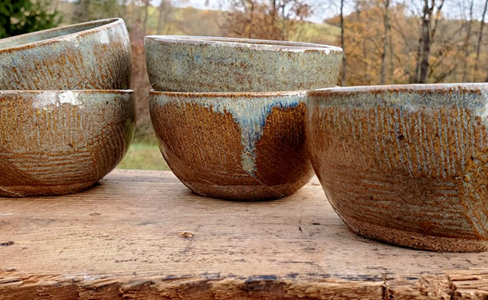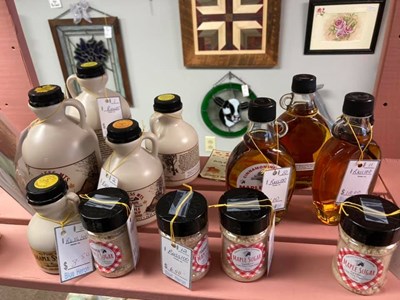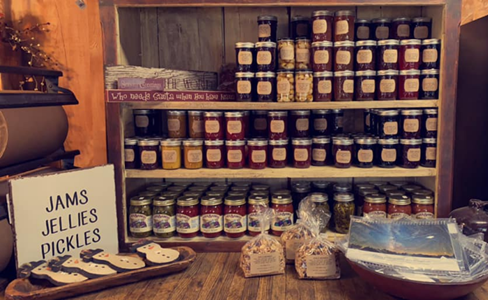 Frosty Hollow Bed & Breakfast + Country Mercantile